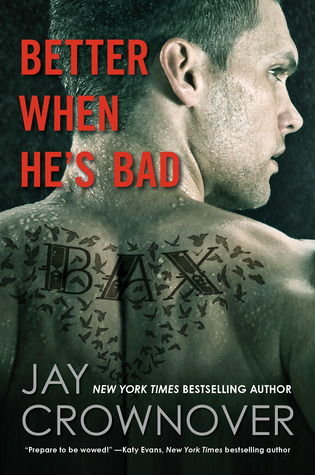 Bienvenido a The Point.

Hay una diferencia entre un chico malo y un chico que es malo... conoce Shane Baxter.
Sexy, oscuro y peligroso, Bax no está solo del lado equivocado del camino, él es el lado equivocado del camino. Un criminal, un matón y pendenciero, él es el maestro de las malas elecciones, hasta que una muy mala decisión lo llevó a la cárcel por cinco años. Ahora Bax está fuera y en busca de respuestas, y no le importa lo que tenga que hacer o a quien tenga que lastima para conseguirlas. Pero hay un nuevo jugador en el juego, y ella es demasiado inocente, demasiado suave... y está de pie directamente en su camino.
Dovie Pryce lo sabe todo acerca de vivir una vida dura y las decisiones difíciles que vienen con ello. Ella siempre trató de ser buena, trató de ayudar a otros, y trató de no dejar que la oscuridad la derribaraa. Pero las calles la están empujando hacia atrás, las cosas han ido de mal en peor, y la única persona que puede ayudarla es el más temible, más sexy, más complicada ex convicto que The Point ha producido.
Bax la aterroriza, pero no toma mucho para que Dovie se dé cuenta de que algunos chicos son mejores cuando son malos.
Better When He´s Bold #2
Algunos hombres simplemente son mejores cuando son audaces.
Bienvenidos a The Point...
En un reino oscuro y roto, un gobernante no tiene que tener miedo para controlar las calles y a la gente sin escrúpulos que las dirigen. Race Hartman es solo lo suficientemente audaz, apenas lo suficientemente inteligente, y acaba de perder suficiente para llevar la corona. Lugares como The Point tendrán siempre cosas malas y gente mala, pero el hombre en control de toda esa maldad puede minimizar la devastación. Race no tiene un plan, pero ¿podrá evitar la aniquilación total sin destruirse a sí mismo?
Brysen Carter siempre ha visto al verdadero Race, un tipo demasiado bonito, demasiado suave y demasiado peligroso. Dejarse acariciar por su brillo dorado es muy tentador, pero Brysen sabe que finalmente va a quemarse. Ella tiene suficientes problemas sin el peligro del riesgo y el caos que viene con un tipo como Race. Lástima que Brysen tiene amenazas demasiado cercanas a casa que podrían ser más peligrosas que cualquier cosa que alguna vez ha producido The Point. Y la única persona interesada en mantenerla a salvo es el único hombre que no puede permitirse tener.
A veces, ser audaz es la única manera de mantenerse con vida. Pero puede ella dejar que Race salve su vida… ¿si eso significa perderlo a él?
Me lo llevo
Better When He's Brave #3
Jay Crownover la autora mejor vendida de acuerdo al New York Times y USA Today, presenta en su tercera novela en la sexy y emocionante serie Welcome to the Point, a una mujer buscando el arrepentimiento, lo que la lleva hacia un hombre de su pasado al que no puede olvidar, mientras unen sus fuerzas para salvar su ciudad... y el explosivo amor sin el que ninguno de los dos puede vivir.
Titus King siempre ha visto su mundo en blanco y negro. Hay un firme correcto e incorrecto en su mente, por lo que cuando era un adolescente dejó atrás a la única familia que había conocido para crear una vida mejor para sí mismo. Ahora, como un detective de la policía en una de las peores ciudades del país, no puede negar que su vida se ha vuelto de un millón de diferentes tonos de gris.
El nuevo elemento criminal en The Point ha traído la venganza y la destrucción directo a la puerta principal de Titus, y caminar por el buen camino parece mucho menos importante ahora. La diferencia entre el bien y el mal no es nada en comparación con mantener con vida a sus seres queridos. Para añadirse a su ya tensa brújula moral, la bella y misteriosa Reeve Black ha hecho su camino de regreso a la ciudad. Esta chica podría ser tan peligrosa para Titus como el chico tratando de destruir The Point pero él no puede apartarse porque la necesita... en más de un sentido.
Reeve sabe todo acerca de la amenaza que intenta destruir The Point. Ella sabe cómo de despiadado, vicioso, y cruel puede ser este nuevo peligro... y en lugar de huir, quiere ayudar. Reeve sabe que tiene mucho de lo cual arrepentirse y salvar la ciudad, además de al ardiente policía que no ha podido olvidar, podría ser la única manera de que finalmente pueda encontrar algo de paz interior.
Con toda una ciudad en equilibrio sobre el borde de la guerra, Titus y Reeve se interponen en el fuego cruzado... y se necesitará de dos almas valientes para luchar por el amor supremo.