Ciudad de Hueso #1

En el Pandemonium, la discoteca de moda de Nueva York, Clary sigue a un atractivo chico de pelo azul hasta que presencia su muerte a manos de tres jóvenes cubiertos de extraños tatuajes. Desde esa noche, su destino se une al de esos tres cazadores de sombras, guerreros dedicados a liberar a la tierra de demonios y, sobre todo, a combatir a Jace, un chico con aspecto de ángel y tendencia a actuar como un idiota...
Me lo llevo
Si Clary Fray pudiera dejar atrás el mundo de los cazadores de sombras, tendría más tiempo para Simon, su mejor amigo, que se está convirtiendo en algo más. Pero ni el mundo subterráneo ni ese apuesto y exasperante Jace están preparados para dejarla ir. Además una ola de asesinatos sacude la ciudad. Clary cree que Valentine está detrás, pero Jace parece dispuesto a traicionar todo en lo que cree para ayudar a su padre.
Me lo llevo
Arriesgando su vida, Clary no duda en entrar en la Ciudad de Cristal sin permiso. Además, ha conocido a un misterioso y encantador cazador de sombras llamado Sebastian y está decidida a descubrir los secretos de su pasado familiar.
Pero otras urgencias la apremian: lidiar con la insolencia de Jace, reencontrarse con Simon, y sobre todo, conseguir que licántropos, vampiros y cazadores de sombras dejen a un lado sus diferencias y aúnen fuerzas para vencer a Valentine. ¿Lo conseguirá?
Ciudad de Ángeles Caídos #4

Amor, sangre, traición y venganza; los riesgos son mayores que nunca en la Ciudad de los Ángeles Caídos. Simon Lewis está teniendo algunos problemas para adaptarse a su nueva vida como un vampiro, sobre todo ahora que casi no ve a su mejor amiga Clary, que está atrapada en la formación para ser una Cazadora de Sombras y pasar tiempo con su nuevo novio Jace. Por no hablar de que Simon no sabe muy bien cómo manejar la presión de no-absolutamente-que data dos chicas a la vez.
¿Qué es un vampiro cuando ama la luz del día y que hace? Simon decide que necesita un descanso y sale de la ciudad-sólo para descubrir que los siniestros acontecimientos le están siguiendo. Consciente de que la guerra que pensó que había ganado podría haber todavía más, Simon tiene que llamar a sus amigos Cazadores de Sombras para salvar el día - si pueden poner sus propias relaciones de fragmentación en espera el tiempo suficiente para superar el reto.
Me lo llevo
Ciudad de las Almas Perdidas #5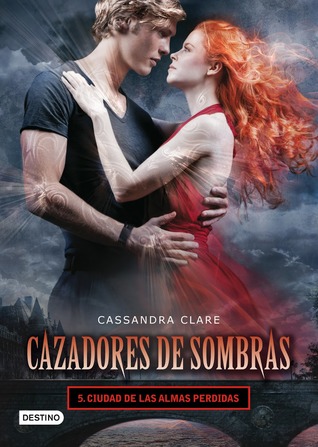 Jace es ahora un sirviente del mal, vinculado a Sebastian por toda la eternidad. Sólo un pequeño grupo de Cazadores de Sombras cree posible su salvación. Para lograrla, deben desafiar al Cónclave, y deben actuar sin Clary. Porque Clary está jugando a un juego muy peligroso por su propia cuenta y riesgo. Si pierde, el precio que deberá pagar no consiste tan solo en entregar su vida, sino también el alma de Jace.
Clary está dispuesta a hacer lo que sea por Jace, pero ¿puede seguir confiando en él? ¿O lo ha perdido para siempre? ¿Es el precio a pagar demasiado alto, incluso para el amor?
Me lo llevo
Ciudad de Fuego Celestial #6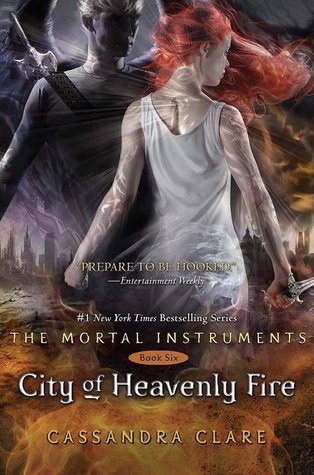 En la tan esperada conclusión de la aclamada saga Cazadores de Sombras, Clary y sus amigos luchan contra el mayor mal que nunca han enfrentado: el propio hermano de Clary.
Sebastian Morgenstern está en movimiento, sistemáticamente convierte a los nefilim en contra de los nefilim, usa la Copa Oscura transformando a los Cazadores de Sombras en criaturas de pesadilla, separando familias y amantes a medida que su ejército oscuro aumenta.
El orden de la batalla se traslada a Idris, pero ni las famosas torres de demonio de Alacante pueden mantener a Sebastian acorralado. Y con los nefilim atrapados en Idris, ¿quién protegerá al mundo de los demonios?
Cuando una de las mayores traiciones que los nefilim nunca antes conocida se revela, Clary, Jace, Isabelle, Simon y Alec deben huir, incluso si su viaje les conduce a las profundidades del mundo demoníaco, en dónde ningún Cazador de Sombras ha puesto un pie antes, y de dónde ningún humano ha vuelto nunca...
El amor será sacrificado y habrá vidas perdidas en la terrible batalla para el destino del mundo en el emocionante final de la clásica saga de fantasía urbana Cazadores de Sombras.
Me lo llevo
The Shadowhunter's Codex #6.5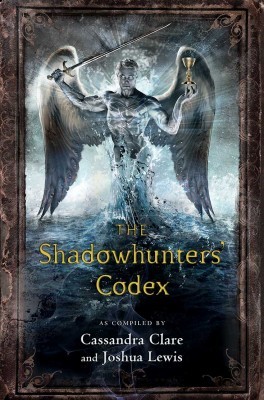 The Shadowhunters' Codex pretende ser una guía para los fans del mundo las sagas de Cazadores de Sombras de Cassandra Clare, Cazadores de Sombras y Los Orígenes. Provee una concordancia con muchas criaturas fantásticas, lugares, las cosas de los libros, pero también destapa el mundo de los Cazadores de Sombras con nuevos detalles, nuevos monstruos, nuevas runas, nueva magia.
El Codex es el Códice en sí mismo, un libro de texto para los nuevos Cazadores de Sombras, con también notas y arte añadido por Clary, comentando y actualizando cosas. (Pero una cosa, el Codex oficial coge cosas que a menudo no son las mismas exactamente de las que conoce Clary. ¡Los hechos que reclama sobre los brujos en sí mismos son escandalosamente incorrectos!) También contiene muchas historias todavía sin tocar de las novelas de Cazadores de Sombras: la historia de Jonathan Cazador de Sombras y cómo se convirtieron en Cazadores de Sombras, la creación de los hermanos silenciosos, la invención de los parabatai y mucho más.